AUCTIONEERS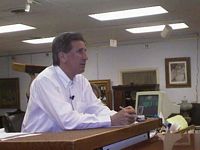 Richard L. Dotta

President & Auctioneer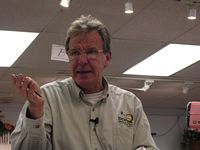 James M. Dotta
Vice President & Auctioneer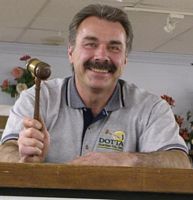 Thomas L. Abruzzese
Associate Auctioneer
---
OUR STAFF
Andrew "Hank" Hanisak

Ringperson / Runner

Lois Katchur
Cashier / Clerk

Dolores Krauss
Office Manager


Linda Lesoine
Cashier / Clerk


Ryan Deutch


Denise Katchur


Joe & Bobbie DiGerlando
Information Systems /
Photographers


Chelsea Dotta

OUR FACILITIES
Our antique, specialty and general auctions are conducted at the Nazareth Auction Center, 330 W. Moorestown Road (route 512) Nazareth, PA. The Nazareth Auction Center is owned and operated by Richard L. and James M. Dotta.
The Nazareth Auction Center recently celebrated its 22nd anniversary. The modern brick facility features two auction gallerys centrally air conditioned for your comfort. The main gallery has large monitors for viewing merchandise being sold at our specialty auctions. This allows everyone a better view of merchandise up for bid.
A computerized auction system allows for a more efficiently run auction and expedites registration and checkout time.
A professionally run snack bar provides a variety of refreshments.
We're located on Route 512; 11 miles North of Route 22 and 4 miles South of Route 33 at Wind Gap.